How hardcore punk politicised Israel's youth
01/06/2017
In an extract from his new book Rock in a Hard Place: Mayhem in the Middle East, Orlando Crowcroft charts the impact of music on teenagers growing up on a remote kibbutz in Israel during the 1990s
It was early 1996 and the crowd at the Incubator, Tel Aviv, was a sea of mohawks and fists. There were at least 300 young punks packed into the tiny room, boots and braces, spit and rage. Ishay Berger was 16, and here he was on stage with a band he had grown up listening to, Useless ID [Ishay joined the band after their original guitarist left]. Down for the night from Haifa, a city 100 km to the north, Ishay hadn't known what to expect. There were three other bands on the bill, including Nekhei Na'atza, a veteran Israeli anarcho-punk band, Kuku Blof and Sartan Ha Shad. Nekhei Na'atza were playing their first gig for almost two years and Ishay was excited. The rest of the band were older guys with cars and girlfriends and he was a young punk rocker looking to break into the scene. "I felt like the luckiest kid in the world," he said. "We looked up to Useless ID as if they were NOFX or something. These guys were the real deal for us." The band was told they had to perform first and as they took to the stage, the adrenaline was surging. In front of them was an angry, baying crowd: they weren't in Haifa anymore. "Once we got on that stage, I was flying. I was totally having the time of my life. But it didn't last long."
In Hebrew slang an ars is a bully, a violent person of low or no class, a hooligan, a "chav" or a "redneck" and an arso punk was a bully that had channelled that propensity for violence and aggression through the medium of flat-out angry British punk rock music. Arso punk was a scene within a scene, and its adherents would regularly trash venues, smash bottles, fight with the crowds and each other. The fans worshipped the boisterous music of UK bands such as Exploited and any punk show they attended would generally degenerate into a chaotic, drunken mess of bodies, beer and blood. That night at the Incubator, as the four regular looking skate punk kids who made up Useless ID began to play, the arso punks unleashed their fury. "Before we knew it, there must have been a good fifty-plus people spitting at us," he recalled. By the end of the set, he was berating the crowd down a microphone: "I remember telling them that we will keep on playing after they all drop out of punk and have regular, shitty boring lives." He was right. More than twenty years later the arso punk scene came and went and Useless ID went on to become one of the Israel's most famous punk rock bands, signed to the US label owned by NOFX's Fat Mike and touring the world with groups that they had idolised as kids back in Haifa.
Ishay's own exposure to punk rock came during a Saturday morning drive with his older brother, who played a cassette of the Dead Kennedy's 1980 album Fresh Fruit for Rotting Vegetables. He was instantly hooked by both Jello Biafra's cynical lyrics and the flat out fury of the band's music. "To this day, I don't think there is a better album to get someone into punk. It felt like reading the first page of a book that you just want to keep reading forever," he said.
Arso punk was a scene within a scene, and its adherents would regularly trash venues, smash bottles, fight with the crowds and each other
After the disastrous first gig with Useless ID, the Haifa punks went out of their way to avoid Tel Aviv but they formed a bond with Nekhei Na'atza. Like every other aspect of Israeli society, the punk scene from the beginning was divided on the Israel-Palestine conflict. Most bands were left wing and sympathetic to the Palestinian cause, but few were anti-Zionist and fewer still critical of Judaism and the Israeli state. Nekhei Na'atza represented the more extreme of the bands on the left. "We despised the idea of Israel as a Jewish as well as of a militaristic state," said Federico Gomez, the band's lead singer.
Federico and Santiago had moved to Israel at the age of 11 from their native Argentina to a socialist kibbutz called Lehavot Habashan in the Upper Galilee, close to the border with Lebanon and Syria. The kibbutz was isolated and Federico remembers that most of the other kids were still listening to 1960s and 1970s rock like Foreigner, Pink Floyd and Dire Straits even as young people in the cities were getting swept up in the new wave scene, listening to the Cure and the Smiths as well as early punk rock. He read about punk in the Spanish music magazines that would occasionally be circulated amongst other young Spanish-speaking Jews in the kibbutz, and converted his brother, Santiago, to bands like the Clash, the Ramones and the Sex Pistols.
At the beginning, that was as far as it went. Israel was culturally isolated in the late 1980s and the brothers were living in a remote socialist agricultural village, far from the cities of Haifa and Tel Aviv. But the one advantage of the kibbutz was that international post was free, and so Federico and Santiago began writing letters – first to fan clubs and teen magazines that occasionally found their way to Galilee and then to Alternative Tentacles, the UK distributors of the Dead Kennedy's 1988 album Frankenchrist. The label was run by a British artist, John Yates, who replied immediately with a newsletter that had addresses for dozens of other UK punk bands. "We sent letters to every address there and most answered and sent back mostly tapes, 'zines and leaflets. Then we sent letters to the new addresses that we found there and it kept growing until pretty much the end of the 90s. We probably sent several letters a day the first three years or so we got into punk."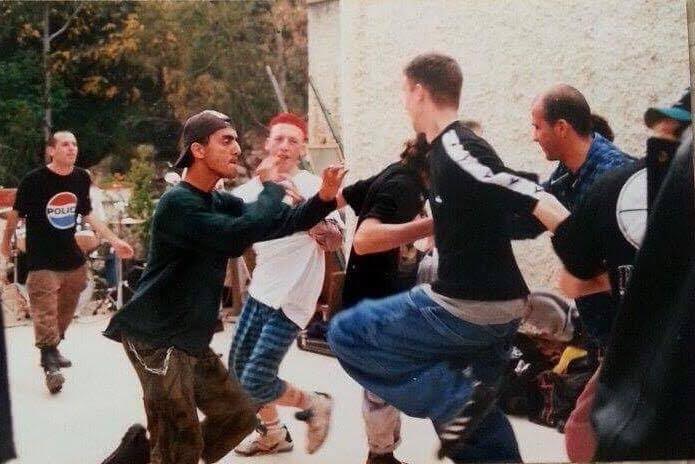 Early image of Useless ID, by Federico Gomez
Federico, Santiago and their friend Oded Tal wrote to everyone from small punk rock outfits in Wales and Sheffield in the UK to bands from Japan, Canada and Germany. They would receive tapes and LPs in return, which they then copied and handed out to the few other punks they knew in Israel. In Europe and the US, letter writing between punks was usually in order to trade tapes or zines, but Federico and Santiago had little to offer. "Most were so surprised to get letters from Israel that didn't seem to mind, they sent things anyway, they only asked for the stamps back and a blank cassette," Federico said. The zines that would drop into the Gomez post box from the US and the UK were full of the radical political message then spreading on the punk scene through the lyrics of bands like the Dead Kennedys, and the attitudes chimed with the socialist, anti-capitalist stance of their parents. "My brother and me came from a very politically conscious family, so a lot of the critique to capitalism found within punk fanzines and lyrics wasn't something totally new to us. But we became interested in anarchism as well as animal rights," he said. "We became vegetarians about a year after we started writing to punks abroad."
When Nekhei Na'atza became a band, they began receiving letters from young punks from other parts of Israel: "We started to get literally hundreds of letters from kids in Israel thirsty for information concerning radical politics, animal rights and punk," he said. It was these kids that flocked to their shows in the mid-1990s. "I do think that some Israeli teenagers and young people had similar ideas as ours, were against Israeli oppression of Palestine, wanted a secular state and thought we somehow expressed also their own feelings," he said. But even the right wing punks on the scene put up with Nekhei Na'atza.
Even the right wing punks put up with Nekhei Na'atza's politics because they were a good band to slam to
Nekhei Na'atza began taking Useless ID along on shows in Tel Aviv and Haifa including at least twice at one of the country's most legendary venues, Roxane, which had a capacity of over 1,000 and had hosted international bands such as Napalm Death, Biohazard and Radiohead. Even back then, most of the crowds would be death metal fans. "We were a minority inside a minority and it was pretty safe to say that even at a punk show you ended up hanging out with more metal kids than punk kids. There were just so many more of them," Ishay said. But for him, it was playing alongside his heroes in Nekhei Na'atza that created the lasting memories. Even at their fateful show in early 1996, he remembers being moved by the fury and passion of Nekhei Na'atza's set. "It was just a harsh, super fast, very angry punk show and that one was a real life-changing gig for me. Like, if they could make me feel like that, then punk rock is probably more serious than what I thought music could actually be."
In 1997, Nekhei Na'atza put out a seven inch compilation of six Israeli punk bands (Ishay played in three of them) and toured the US, bringing back CDs, fanzines and valuable connections within the American punk and hardcore scene. By now the scene in Israel was tight-knit: Ishay remembers it fondly. "After a show in Haifa, we had punks from Tel Aviv sleeping on our floors and vice versa. We would make tapes for each other and take a good care of our friends. There was a good feeling that we were getting it right and fighting a good fight."
The division between the hard-drinking and fight-loving arso-punks and the peacenik political scene was only one source of animosity between sections of the Israeli scene. Another major divide was over military service. Israel requires all citizens to serve three years in the armed forces once they turn 18 which depending on the decade - could either mean manning patrols and raiding Palestinian homes in the West Bank and Gaza or fighting in an all-out war with one of Israel's neighbours. Even for Nekhei Na'atza, with their anti-state, anti-militaristic politics, the band was divided over whether to serve: "Of the seven people which were members of Nekhei Na'atza at one time or other, only two served in the army, which I guess it's a very good percentage for Israel," Federico said. The decision to serve or not is not only political, opting out of the army generally involves serving a jail term and can have a life-long impact on a young Israeli. Refusing to be conscripted can make it difficult to get jobs, even into adulthood, and is met with serious disapproval by relatives and the older generation of Israelis that fought in the conflicts of 1973, 1967 and 1948.
As a result, most punk bands became established during their early teens before fading into obscurity once the members got drafted. Nekhei Na'atza's stance on military service was influential on other young punks that didn't want to serve, although Federico believes that it was easier to refuse in the 1990s than it is now. "Refusing to go to the army is still taboo for a lot of people. But being outspoken against the army caused a lot of discussion and I know for a fact that we played a big part in some people from the punk and animal rights scene refusing to go," he said. At the same time, those punks that decided not to do their military service did not exclude those that did. There were never boycotts against those who served and those who did not. Ishay was investigated in the late 1990s when he wrote an article for his fanzine advising young punks how to dodge the draft. He, like the rest of Useless ID, did not serve in the army but did not have to serve jail time – as he might have to today. "I did what I had to do in order to escape it in a legal manner, which was total refusal and a lot of convincing that this is ideal for both sides."
Ishay was investigated when he wrote an article for his fanzine advising young punks how to dodge being drafted into the army
In 1997, Nekhei Na'atza split, but Useless ID's career was just beginning. That year they released their first full album, Dead's Not Punk, on their own label, Falafel Records, and then in 1999 came their second, Get in the Pita. Then the frontman of US punk rock band the Ataris, Kris Roe, invited the band to record a split EP featuring nine of his songs and seven by Useless ID. One of the songs, Too Bad You Don't Get It, was featured on Fat Wreck Chords' Short Music for Short People (a compilation that saw 101 bands perform songs less than 30 seconds long) and the exposure saw Useless ID signed by Kung Fu Records, the US label started by two members of American punk band, the Vandals.
But as their career was beginning to pick up, the situation in Israel was deteriorating. On February 25, 1994, Baruch Goldstein carried out a horrific massacre of 29 worshippers at Hebron's Mosque of Abraham while a spate of suicide bombings by Hamas members, the Islamist party founded in 1987, killed dozens of Israelis. Following Rabin's assassination, right winger Benjamin Netanyahu won the Israeli leadership in 1996 and the agenda forged by Peres and Rabin was replaced by his outright hostility towards Palestinian Liberation Organisation leader Yasser Arafat and the Oslo Accords. Bands such as Useless ID and Nekhei Na'atza had fought hard against the tide the militarism and division in Israel but by the end of the millennium the stage was set not for peace, but for war.
**
The violence that engulfed Israel and Palestine in late 2000 and spiralled into all out conflict in many parts of the West Bank, Gaza and Israel was the second intifada. The first took place between 1987 and 1993 and was defined by a wave of strikes and civil disobedience, as well as street protests that gave the unrest its unofficial name as "the intifada of stones". A total of 1,376 Palestinians were killed over six years, at least half of them by Israeli soldiers. The Second Intifada was by all accounts far more violent, with 4,228 Palestinians and 1,024 Israelis killed and many thousands of civilians on both sides injured. But aside from the death toll, the violence of 2000 to 2005 was notable for its creation of a climate of fear and division that remains to this day. The bloody suicide attacks by young Arabs on buses, at nightclubs and in cafes across Israel – as well as the deaths of Palestinians at the hands of young Israeli soldiers – created a paranoia and mistrust on both sides. As a direct result of the bombings, Israel began its hugely controversial separation wall and stepped up its network of checkpoints across the West Bank. The troubles of the 1990s had made the case for coexistence difficult to make in 2000. By the end of 2005, it was almost impossible.
**
In the second half of the 2000s, Useless ID's focus began to shift back to Israel – they played at a controversial event, Salute to Israel, in 2008 and 2009 released their first album in Hebrew alongside a hip-hop reggae artist, Muki. They supported No Use for a Name in Tel Aviv and later that year toured the country. "I guess we did try to focus more on doing things in Israel at certain points, but things like the Hebrew album. I don't know, I think that maybe we were hoping to get some more recognition in our home, and looking back now, it means very little to me, personally," he said. Useless ID was signed to Fat Wreck Chords in 2012 and Ishay's younger brother, Gideon, joined the band. In April 2016 they released State is Burning, their eighth full length album. The first single was called We Don't Want the Airwaves while the sound and content is far angrier than their previous seven albums. Despite songs such as Borrowed Time, which lashes out at greedy, lying politicians or the single, which is a direct snub to the acceptance that they once sought in Israel, Ishay disputes that Useless ID are a political band. I don't describe any band as a political band. For me it's like" 'Is that a good band?, a bad band? a fast band? a slow band?' In 2016 I would describe Useless ID as a good, fast band," he said. And what of the scene they helped to establish back in the 1990s and which they are without doubt the most famous export? Like many punk rockers and metallers now in their 30s, Ishay is pessimistic. "Kids leave the scene at the age of 18 because they have go to the army, and the cycle goes on and on. It's a little sad to say this but the only major change in the scene, 20 years later, is the internet. Kids can order records and shirts and get in touch with other people in a different, more intense way. We used to send regular mail and trade fanzines and tapes and now everything is done in a completely different way, and sadly, that's the biggest change that I see," he said. "I am very much into the international hardcore punk scene and sometimes talking about the Israeli scene is a little like talking to a chef about tap water," he said.
Sometimes talking about the Israeli scene to international punks is like talking to a chef about tap water
In 2000, Federico met a Swedish woman, Jenny, in Israel and a few months later flew to Sweden to get married. They returned to Israel but a few days later the intifada broke out and although Federico tried to remain politically active he struggled to come to terms with what was happening to his adopted country. "I think that for both Jenny and me, the political situation turned hopeless and it made a big impact on our feelings towards Israel," he said. In late 2005, he left Israel and moved to a small city, Falun, in Sweden to do his teacher training. After a few years the couple moved to Stockholm where they live now with their two sons. His brother Santiago is still active on the Israeli scene. He is nostalgic about the years 1992 to 1996, when the scene in Tel Aviv, Haifa and Jerusalem was tight-knit and the political situation in Israel was less intolerant than it is today. "I'm neither politically active nor doing something scene-wise besides going to the odd show every now and then. I really miss making music and of course the friends who were involved in the 90's Israeli punk scene," he said. He sees Nekhei Na'atza as having achieved what they set out to do – creating a genuine underground scene in Israel – and his only regret is that the band were so lax with recording their music professionally, to the extent that very little of it has survived to this day. "We were naïve and ignorant about the more technical aspects of music and that side of being in a band didn't unfortunately match our enthusiasm for trying to change things. We should have rehearsed more as well," he said. "But one of our main goals was to start a DIY punk scene in Israel and we, along several others, definitely achieved that." Israel, however, has changed since the mid-1990s and he does not see many of the stances that Nekhei Na'atza took back then being accepted today: "I would say that the mood in early to mid 90's Israel wasn't as xenophobic and intolerant as it seems to be now.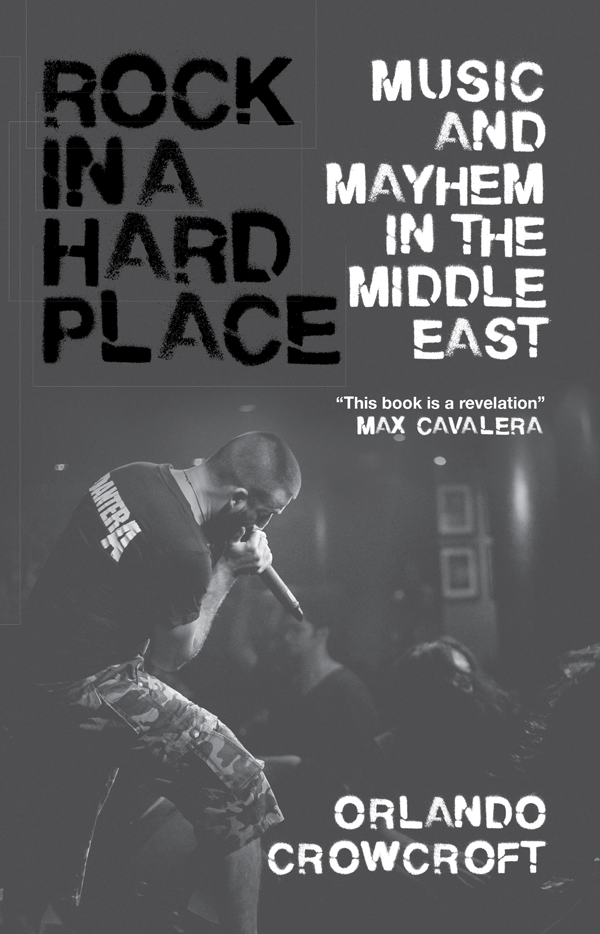 Rock in a Hard Place: Music and Mayhem in the Middle East is available from Zed Books now