On refugee road
In 2015, war and poverty saw hundreds of thousands of people flee their home countries,  desperate for security in Europe
By Fergal Keane
12/08/2016
On the rise above the beach, there were hundreds upon hundreds of life jackets. The former owners were farther along the road. The ones at the bottom of the pile belonged to those who were possibly already in Germany. Those on top belonged to people still walking the roads of Lesbos.
An hour later on the beach, I saw rubber boats racing to the shore. People splashed into the shallows. A woman from Afghanistan thanked me as she waded the last few steps to dry land. "For what?" I asked.
"For smiling at me," she said.
She said she was glad to be alive. Boats were sinking all the time.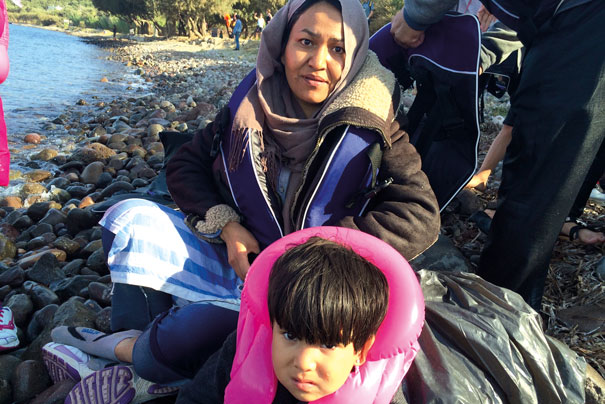 An Afghan woman and child arriving on Lesbos after crossing from Turkey
Out on the territorial line, a Danish coastguard vessel waited to pick up survivors. I saw a man jump from a dinghy about two hundred yards from shore. We cheered him. He told us he was afraid the boat would sink if he didn't dive off: "I am a strong swimmer. I did it because I didn't want the children to drown."
I didn't tell them that hearts were hardening in every country on their route. How could I steal their hope at that moment?
A Greek hotelier came out with fresh water. Her neighbour directed the refugees to a bank of donated clothing. The boats kept coming. People were asking us for a lift to town, at least half a day's walk. But how do you take dozens in a van for eight, what kind of moral triage can you perform when everybody is tired and desperate and faces miles of road?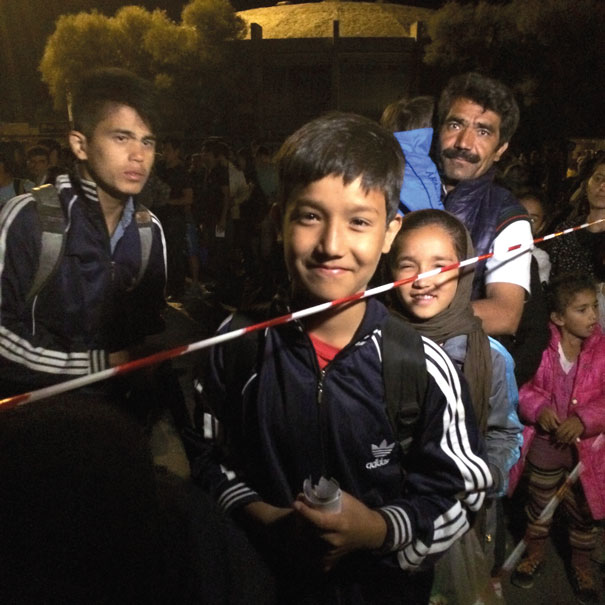 Waiting to board the refugee ship El Venezelos
We took a couple with a baby, and a man with one leg and his friend. The leg was blown off in the war. It was dusk and the people on the road were becoming shadows. I put on some music. We started with Feirouz and her plangent homage to Beirut.
From my heart I say peace to Beirut
And kisses to the sea and homes
For the Rock that is as the face of an old sailor
She is the Drink from the people's soul
She came from the people's sweat
to become bread and jasmine
Then Khaled's love song to Aysha. We sang the chorus together.
Ooh! Aicha, Aicha, ecoute-moi
Aicha, Aicha, t'en vas pas
Aicha, Aicha, regarde-moi
Aicha, Aicha, reponds-moi
They were happy in the van. The baby fell asleep. Ahead of them, borders were closing, people were waiting for trains that never came. But for our passengers the illusion of a European welcome still glittered. I didn't tell them that hearts were hardening in every country on their route. How could I steal their hope at that moment? That morning I had witnessed a Greek policeman, a swaggering bully with his baton drawn, screaming at refugees on the quayside in Lesbos. When I challenged his boss I was told the cops were fighting a war and had lost control of the situation.
The only winners are the criminals. Organised crime knows a growth opportunity when it sees one. So all along the Refugee Road, you meet the people smugglers and passport forgers, untroubled by the forces of law and order whose fundamental desire is to get the travellers out of their country.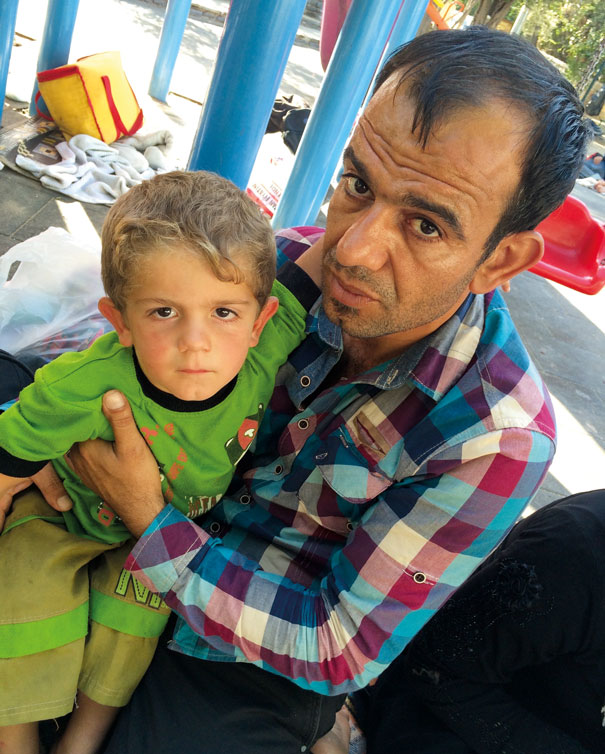 A father with his sick child camping in a playground in Bodrum
Nobody controls a thing in this story. Even Putin, the master plotter, has no idea what he has dragged his country into with his military intervention. He reads only the lessons of history that suit him, a weakness that is the father of disaster.
We are all blundering and blind. The EU waits in hope for a winter pause in the great migration. The Americans hope it will all go quiet. But there is a wild, scared energy on the loose. It destroys the cynics as quickly as the idealists.
This article originally appeared in issue 1 of the Little Atoms magazine. To find similar articles and buy a copy, please click here.